There is no shortage of various systems on the market, which fall below the "Project management" header. Some are very expensive, some are free, with lots and lots in the middle. The trouble is, most of them are very generic and probably none of them is actually very good when it comes to managing European projects, which happen to be pretty specific.
A very specific aspect of EU Projects is reporting. There is always more than you'd think is enough and it has to be done properly if you want your funding, no excuses. AdminProject has tools to help you in this area. Namely in this article I'll show you how to report travels. Similar features are available for reporting your work time (timesheets) and dissemination activities but that's a subject for another article.
Every person who's ever managed an EU project will probably agree that apart from time and task management (we have yet another article on that matter), reporting is something that can make you cry. As you know, there is a lot to report. First, almost any project has travels and you need to gather all the information about them. How we can help? Just hit this button in the Finances tab:
When you do, you should see the list of your trips. Or not, if you're new here. Anyhow, it is the place where you can collect and record all your travels – past, present and future. Moreover, you can ask your Partners to enter the details and just print them out later.
To get started, click Add new travel button and you will be presented with a new form, where you can enter all the necessary details.

You need to fill-in pretty much all the fields, one which is not required is Workpackage however it will help later in other modules. Don't forget to click Save when you're done. It's not over yet, you need to add people who travelled. AdminProject will ask you automatically about the first person when you click save: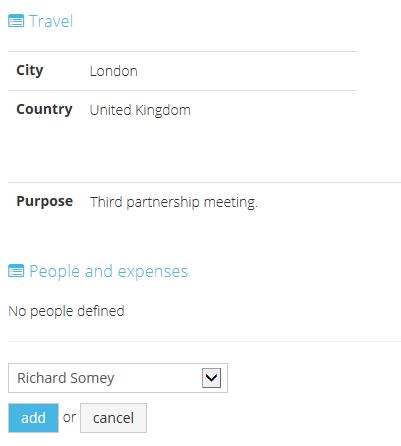 As you can see, I've added Richard as a person who was in London, but there are no costs associated with this travel. Typically, the costs will include travel and accommodation.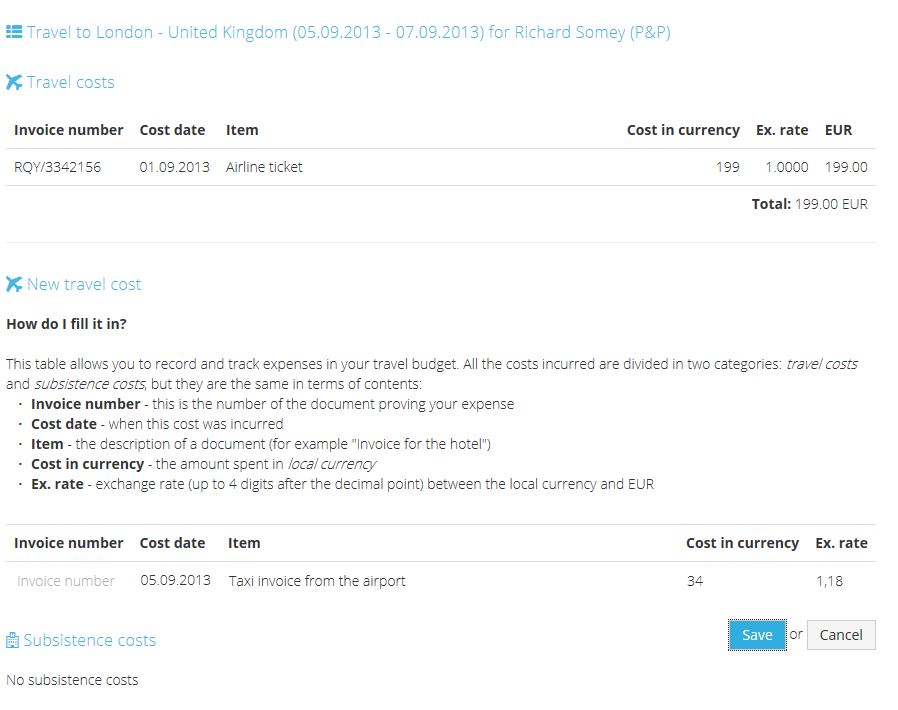 First entry is airline ticket, in Euro, so exchange rate is 1, while the second entry is taxi invoice, since this one is from London, the cost is 34 pounds and exchange rate is 1,18. Keep adding everything that you've gathered on the journey.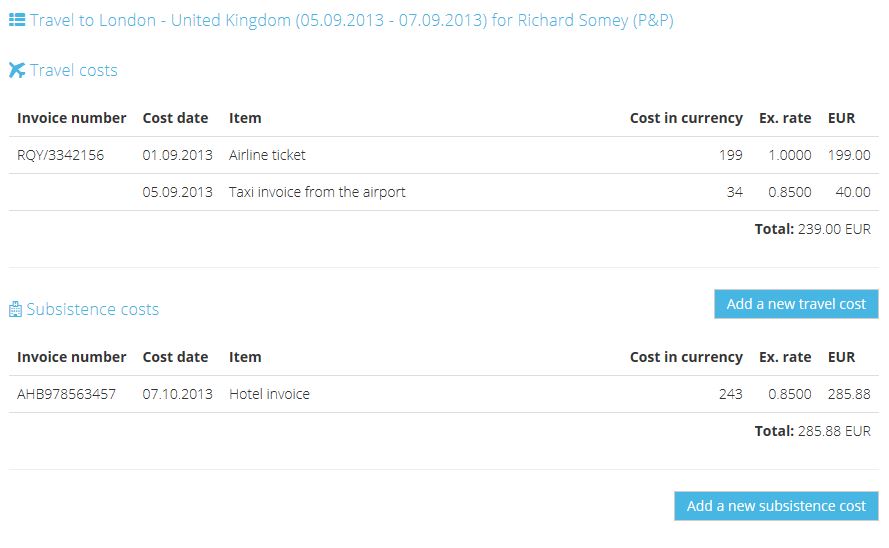 The final step of reporting is to print/export everything into a document (.docx). Obviously, you can edit the file as you see fit before submitting it as an official report.