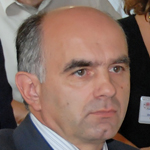 Modern management requires advanced tools and techniques. The trend towards computerization of business processes has long been observed and it saves time and money. This principle applies not only to companies but also institutions such as universities, which keep running more and more complex research.
dr Krzysztof Kaszuba, Rector
Rzeszów School of Business
The need for efficient management of the research team, continuous access to project documentation and a guarantee of the rapid flow of information is crucial in this respect. AdminProject meets such expectations. In my opinion, it helps to reduce bureaucracy and information noise, allowing for more efficient use of time for the purpose of research and teaching.