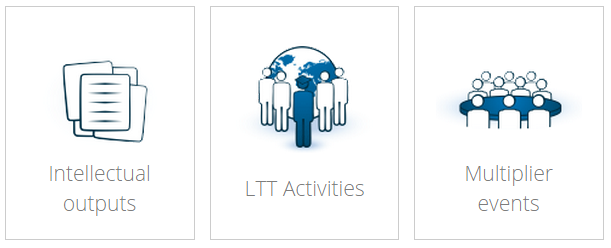 It is time to start your Erasmus+ project – and we are happy to announce that AdminProject has all what is needed.
We were working hard in the last couple of weeks to develop modules which are necessary and specific for the new programme.
The biggest changes include:
Intellectual Outputs module, together with Activities,
Learning, Teaching and Training Activities,
Multiplier Events, with Activities as well,
standalone Activities, useful in KA1 projects, together with flows.
The new set of modules will enable you to fully reflect your project structure and together with existing modules – to effectively manage your project. 
We also introduced a new project workspace selector, since there are several types of Erasmus+ projects and they are quite different. Now you can select the type of the project you are planning to manage and have it preconfigured for you. But obviously you can change that later if needed, or just turn off modules which you don't use. 

New modules include simple help system, just hover your mouse over the question mark icon.
There is still much more to come, we are gathering information about reporting and finances in Erasmus+, once they become available we will develop new mechanisms or update existing ones as necessary. 
If you have an account already, please sign-in to see new functionalities, otherwise you can always register – it only takes a minute or two.