The weather has already been introducing spring updates. The cold days are gone and warmth is taking their place. We can't say our developers woke up from the winter nap, because they were working the whole time to make AdminProject better.
The recent addition was already presented in two previous posts: Free Erasmus+ proposal builder tool and Is it really free? Of course it is. Though the deadline for KA2 proposal has already passed the builder may become useful again in the following months and next year.
To keep it brief, we have reworked the accounts a bit by introducing the Free Account and making Trial a feature rather than an account on its own; we have also added new questionnaire fields and replaced the text editor.
One of the changes brings the list view of all your projects. It is now possible to see all projects and proposals with your role (owner, admin, user), name of the project's owner and the number of people in the project. You can view the detailed list and see who is who in the particular project or proposal.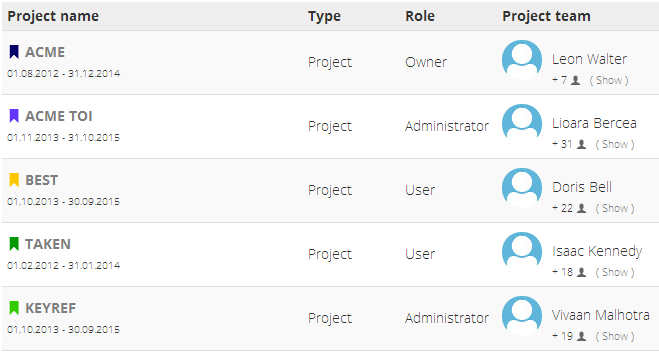 Minor changes brought new types of fields in Evaluation questionnaire builder to make your questionnaire better organised. These are:
text field,
section header,
matrix question type
These two screenshots illustrate how editing and publishing a matrix question on ready questionnaire look like.
We've also decided to change the text editor used to write comments and discussion replies. The new one is slimmer and adapts to the size of your comment or post and the height of the screen. For you the change should be rather cosmetic.
We've also rolled out a batch of minor improvements in UI and general experience like a partner's acronym after every user's name. It's much easier to find out who represents what organisation.
Try these things out and let us know what you think.