For most of people, New Year is an opportunity to make new resolutions. We are no exception here! Looking at our Blog, not much has been happening lately, but fortunately that wasn't the case with AdminProject! During the entire 2021 we managed to roll out over 110 updates, most of which were tiny improvements here and there. We have also introduced some changes that you asked for on our support channel. That said, it is high time for us to keep you up to date on a more regular basis!
Project Results are available!
In this short post we just wanted to let you know that now it is possible to adjust your project to the most recent calls. Intellectual Outputs were replaced by Project Results, and AdminProject can now show it properly! If you create a new project, your new KA2 project will have Project Results already enabled. For the projects that were created earlier, it needs to be manually changed. This setting, however, can be updated only by the owner of the project. If you had used Intellectual Outputs, no data will be lost! Just from now on you will see them as Project Results.
This can be done in the Settings tab of the project, under Customise project option.

Next, on the Tools tab, enable the option Use Project Results naming and remember to save the settings!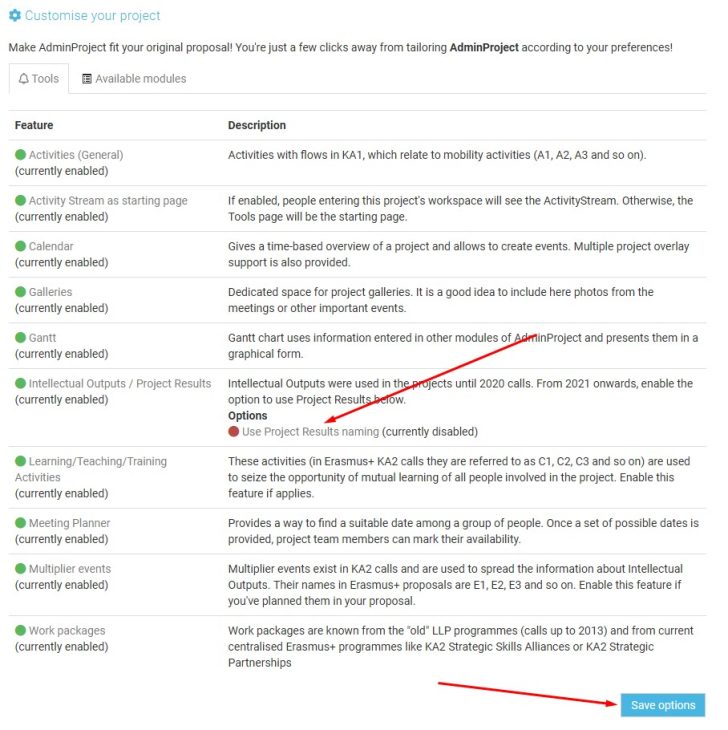 We hope that this small change will make working with AdminProject more comfortable. This change will be reflected in all the other modules, that is Timesheets, Tasks, Multiplier Events and so on.
As always, in case of any questions, do not hesitate to drop us a line!