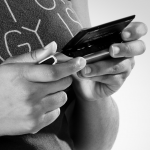 There is the kind of people who are very reluctant in adopting new solutions or who do not want to waste time on using something new because old stuff works just fine. They just want to hang on to good old e-mail messages. Sometime ago we introduced the possibility of participating in discussions and commenting under tasks without the need of opening a browser and logging into AdminProject. We thought it was useful to people who reply to e-mails on the move with their phones and tablets, and we effectively increased the efficiency of work.
Now, users in a project, who prefer e-mail only working style can not only answer with text, but also reply to AdminProject task or discussion notifications using e-mails with files attached. Such file is then automatically attached to a task or a post in a discussion.
Surely, you don't need a guide on how to sent e-mails, there is one thing though you need to be aware of. Always type your reply above this line in your e-mail:
So remember, if you have a file to share with your co-workers on AdminProject, send it with an e-mail reply without the need to launch additional app.
Featured image: "Texting... A lot of Energy" by Vox Efx, used under CC BY / Cropped from original